Welcome!
OVIDIUS UNIVERSITY ANNALS, SERIES PHYSICAL EDUCATION AND SPORT SCIENCE, MOVEMENT AND HEALTH has next ISSN:
1996-2012: ISSN 1224-7359

2013 : ISSN 2285-777X

ISSN-L 2285-777X

ISSN online 2285-7788

with agreement of National Library Bucharest, Romania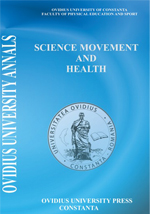 Our Journal
"Annals of Ovidius University Constanta-Series Physical Education and Sport/Science" edited by "Ovidius University Press" appeared in 1996.
Appearance was continued with one volume for:
2002, 2004, 2006,2007, 2008 academical year.
From 2009 our journal appeared with new series:
"OVIDIUS UNIVERSITY ANNALS, SERIES PHYSICAL EDUCATION AND SPORT/ SCIENCE,
MOVEMENT AND HEALTH"
Series Physical Education and Sport/Science, movement and health